BENEFITS OF LEASING OR BUYING YOUR NEXT JAGUAR
SHOULD I BUY OR LEASE A JAGUAR?
If you are looking for a new Jaguar, you have come to the right place. Jaguar Hinsdale proudly serves luxury car owners throughout the greater Chicago area. Our Jaguar dealership near Chicago is here to provide you will a first-class sales and service experience. As you are shopping for your next Jaguar, let us help you decide whether to buy or lease your next luxury car or SUV.
BENEFITS OF LEASING A JAGUAR
Did you know that nearly 50% of all Jaguar models in the United States are leased? Leasing a Jaguar has many inherent advantages. Many luxury car shoppers decide to lease for many reasons including:
Lower Payments: Since you don't pay for the entire vehicle when you lease, lessees benefit from lower monthly payments, down payments, and sales tax.

Enjoy more luxury and technology with the latest  Jaguar model lease
Maintenance Covered: Routine maintenance is included when you lease a new Jaguar model. With Jaguar EliteCare, you get best-in-class coverage. Complimentary scheduled maintenance coverage is available on all new Jaguar models and covers factory-recommended scheduled maintenance.
Lease-End Options: When your Jaguar lease is up, you can have four options to choose from. Your four Jaguar lease-end options include; getting into a new Jaguar, keeping your current Jaguar, returning your Jaguar, or extending your Jaguar lease.
BENEFITS OF BUYING A JAGUAR
If you are looking to get into a new Jaguar, financing might be the best option for you. Our finance team will work with you to get you into the best auto loan for your budget and lifestyle.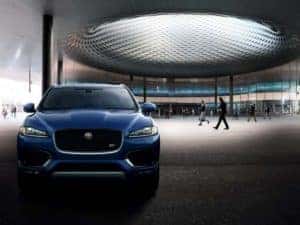 No Mileage Restrictions: When you finance a new Jaguar, you won't have any mileage restrictions like when you lease.
Total Ownership: When you finance a Jaguar, you have no restrictions. You can opt to sell the vehicle whenever you choose. Also, since you own the vehicle, you don't have to worry about getting fined for excess wear and tear.
Less Cost Over Time: Although buying a new Jaguar will require more upfront costs, the longer you own the vehicle, the less cost over time.
JAGUAR LEASE NEAR CHICAGO
When you lease a Jaguar, there are some inherent advantages that many people find appealing. First, when you lease, you avoid having to weather the initial depreciation that occurs the moment you purchase a new Jaguar and drive it off the lot. Leasing allows you to get a new vehicle without paying a large down payment or suffering depreciation since you won't officially own the car. Instead, you'll only be paying for the time that you use it, which is attractive to those who like to frequently upgrade to a new model year or change models altogether. Leasing can be far more affordable than buying in the total amount paid and monthly installments because you're not paying to own the car forever.
Leasing may also allow you to enjoy more luxury and features with a more expensive car than you could buy outright since lease payments are lower than purchase payments. While there is no down payment with a lease, you may have to pay your first month's lease up-front as well as deposits, taxes, and acquisition fees. You also may owe additional fees at the end of your term, as many leases include mileage restrictions and maintenance requirements. Violation of those terms may result in additional costs assessed at the end of your term. At the end of the lease period, you will not own the car but will rather turn it into our dealership.
JAGUAR PURCHASE
When you purchase a Jaguar, you will eventually own the car if you maintain the payments. There are some up-front costs associated with purchases, whether those costs are covered with currency or trade-in value. You'll likely be required to make a down payment of some kind, though if you're buying a used Jaguar the terms may be different than the purchase of a new car. The purchase of a car is an investment, though you will have to accept depreciation in value as the car ages. However, once the car is paid for, it is yours to do with as you please.
You also can customize the car to meet your needs. Because you own the car, you will retain some of the value you invest in it if you decide to sell it at a future time. You won't have to worry about mileage restrictions when you purchase a Jaguar. You can drive it as much or as little as you'd like without penalty.
If you're considering the lease or purchase of a Jaguar, make sure you understand the relative advantages and disadvantages of each. If you're interested in leasing or buying a Jaguar, visit Jaguar Hinsdale to get the process started.
More from Our Jaguar Dealership
Shop Now Jaguar has long been synonymous with luxury, performance, and innovation, and the 2024 Jaguar F-PACE is no exception. This stunning SUV offers a perfect blend of style, power, and cutting-edge technology. If you're in the market for a new vehicle and considering a lease, the 2024 Jaguar F-PACE might be your perfect choice….

When it comes to buying a luxury vehicle, the decision can be both exhilarating and daunting. You want a car that not only exudes sophistication but also delivers a thrilling driving experience. At Jaguar Hinsdale, we understand your desire for a luxury car that reflects your style and personality. That's why we are here to…

Congratulations on your new Jaguar! As a proud owner of this iconic British luxury vehicle, you're not only driving a masterpiece of engineering but also experiencing the latest in automotive technology. One of the standout features of your Jaguar is the PIVI Pro infotainment system. In this blog post, we'll guide you through the process…